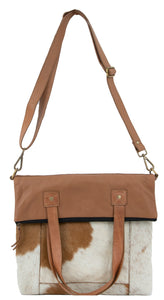 Size: 14" W X 17.5" H X 1.5" D
Handle: 60" adjustable strap

Exterior Features: Back zipper pocket 8"
Interior Features: Interior zip pocket 9"and slip pocket 10" includes Double compartment 
Closure: Top zipper closure with magnetic fold

Material: Vegan leather + Hair on material
Short Description: Durable and fashionable, this bag is structured and styled just right to make it your go-to now and forever. we see why this  is a customer favorite and keeps returning in new colors season after season! covering trucks as tarps and providing shelter as tents, this textile is given new life. 
This product does not meet California Prop 65 Guidelines.