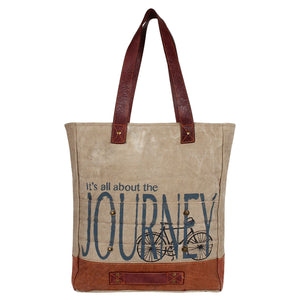 Size: 13" W x 15" H x 4" D

Handle: 11" Handle Drop

Interior Features: Dual interior slip pockets, and a zippered pocket with magnetic snap closure.
Material: Made from durable re-milled and up-cycled military tarps & tents used by the army, covering trucks as tarps and providing shelter as tents, this textile is given new life.
Short Description: Command the attention of fellow travelers and sight-see in style with the All About the Journey tote. This cute tote is perfectly equipped for all your adventures.

This product does not meet California Prop 65 Guidelines.