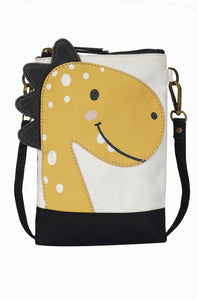 Size: 6" W X 8 "H

Handle: 23" Adjustable Strap

Closure: Zip Closure

Material: Up Cycled Canvas
Short Description: Perfect for just the essentials, you can carry just what you need with you wherever you go inside this cute little dinosaur bag. With a dinosaur print colorful exterior and a fabric lined interior. You can stash and store the smallest stuff in this adorable bag, and a top zipper holds it closed.

This product does not meet California Prop 65 Guidelines.